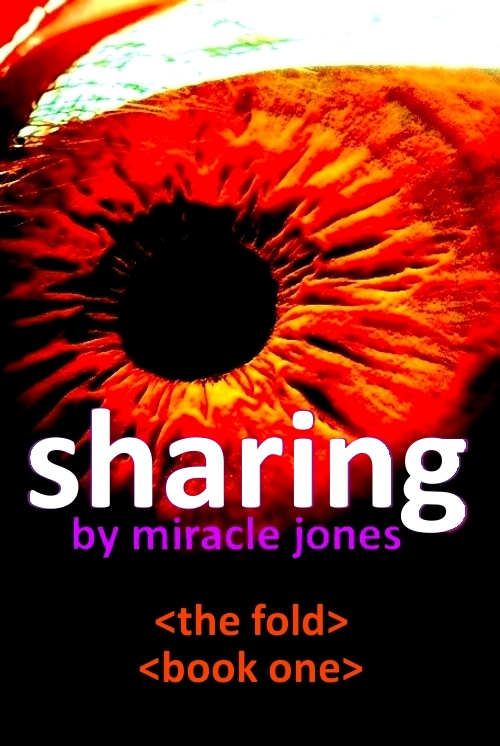 Some writers are wonderful storytellers. They spin tales with twists and turns that make the reader hunger for more. Some writers are wordsmiths, constructors of sentences so beautiful they make you want to cry, placing exactly the right word in exactly the right place. These two we know all too well. But there is a third proficiency found in a very small group of writers that is often overlooked. Some writers have great ideas.
Such is the case with Miracle Jones an author who spins concepts so unique, and literary constructions so strange, it's almost as if they were hand-tailored to be reviewed on this blog.
I picked up Sharing for the same reason I pick up most of my ebooks: it was free. But downloading free ebooks is a haphazard venture at best, the literary equivalent of eating out of a dumpster. Sometimes you might find something worth consuming, but most of it is probably going to make you sick. But as your literary hobo taste-tester, I've taken it upon myself to take the plunge to sift through the trash looking for treasure.
When I started reading Sharing, I was certain is was little different than the other failures and fizzbombs from the bottom of the self publishing barrel. The voice was uncertain and shaky, as jagged as broken glass. The characters didn't quite seem real. And the plot…well at first it seemed as nonexistent, as if the author were simply pulling random weirdness out of the air.
And yet there was this indescribable quality to it. Imagine if you will, walking down the street, minding your own business when out of an alleyway a sound of strange music emerges. You step forward, vaguely intrigued, and there in the darkness you find an old man seated at a weather-worn piano plunking away at the keys. The instrument is out of tune, the player, seemingly amateur, and yet there is something in those discordant tones that keeps you from continuing on your way. You stand there, listening for the pattern in the music, trying to suss out what it is that draws you in so, when suddenly from the shadows, the sound of more instruments begin to emerge. From deep in the shadows come the strains of bent tubas, badly tuned violins, and other musical implements that produce sounds unlike anything you've ever heard. And suddenly, the pattern becomes clear. All the pieces fit together, none of them whole on their own, but each somehow striving to a weird synergy of sound that lifts your spirit unlike anything you've ever heard before.
That's what reading this book was like. It was undeniably flawed, and yet also undeniably brilliant.
And, as I mentioned earlier, the weirdness factor was off the charts. Venture into this book and you will meet fantastic cast of characters, seemingly plucked from the darkest of Lewis Carol's nightmares. There is a bull-like creature with a blade for a horn that flies by means of hundreds of writhing tentacles. There is a talking cockroach who claims to be a fairie. And there is a tiny sentient planetoid, covered by vampiric computers, that projects the psychic image of a cute kitten over itself.
All of these and one ordinary human girl meet in a desert where the sands are ever flowing toward a gaping hole in reality and the only fixed points are a massive cathedral covered in alien runes, and a strangely terrestrial diner.
Overall, I would highly recommend this book to anyone who is a fan of the utterly strange. The writing is raw, but in a way, that is part of its charm. This is a work that could only exist in the world of e-publishing. It has its flaws, but if you're willing to look past them, there is something simply brilliant to be found here.
You can download Sharing for free, here.