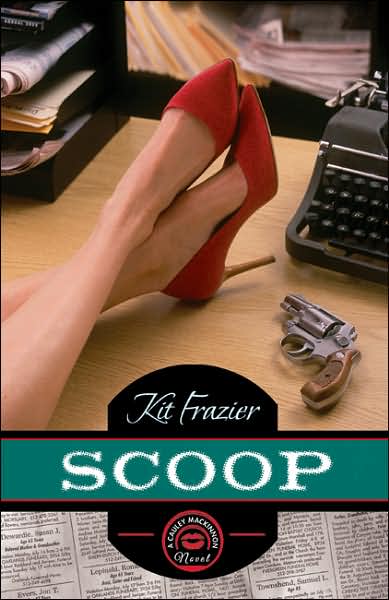 We're in dangerous waters with today's review folks. I've left the safe harbour of nerdy dude fiction and ventured out over the deep and shark infested seas of…Chick Lit.
Why am I reviewing this book again? Two reasons:
1. I'm a sucker for obscure authors with a great voice.
2. I'm an even bigger sucker for ebooks with a 99 cent price point.
So, without further ado lets get on with the show.
Scoop is a book about a reporter named Cauley McKinnon who has made some…less than stellar choices in her love life which in a roundabout way has led to her working at the obituary desk of the smallest of Austin's newspapers. And that would be Austin as in Austin, TX, a town so clearly realized in this novel that it comes to feel like a character in and of itself. In this and other things Scoop is a clear example of the old mantra, Write what you know. It was clear to me when reading the author was drawing many of the details of her fictional surroundings from real life, and that realism of setting made the story all the more believable.
The author's writing style is both clear and compelling, which was really one of the first things that made me want to buy the book. The second reason is that from the first page the characters seem to leap off the page and into your mind.
The books characters are both its greatest strength and greatest weakness. On the one hand the main cast is strong and well developed, filled with well rounded villains and subtle flawed heroes. On the down side the supporting cast of characters, mainly represented by Cauley's friends and family, are also fully developed. You may be wondering why I've put this down as a negative. The essential problem is that while this cast of miscellaneous characters are both colorful and interesting, they do almost nothing to move the plot forward. Occasionally they provide support to our heroine in her times of trouble (and Cauley McKinnon has loads of trouble on her plate) but they do very little to push the story forward which by the end of the book leaves the lot of them looking decidedly superfluous.
As to the story itself it was compelling enough as both a mystery and a romance, keeping me turning the pages till the very end. Unfortunately once I got to the end I found the resolution to both threads to be slightly underwhelming. On the one hand Cauley solves the mystery and ostensibly finds the right man for her but her happy ending feels somehow shallow and tacked on.
And of course since this book is partially a romance its time for my to insert my obligatory rant about such things here. Cauley McKinnon suffers from what I will call Bella Swan syndrome. Bella Swan syndrome is when a female character downplays her own attractiveness and then every single unattached guy she meets wants to jump her bones. And I know I've complained about the double standard before but I'm gonna hit it again here:
Ladies, don't tell me you want me to love you for who you are and not what you look like and then write stories in which your heroine has guys drooling all over her because of what she looks like. Your desire to be desired is practically omnipresent in the books you write for other gals.
If you really meant what you said you would write characters that are truly unattractive, that don't get noticed by guys, that have to prove their inner beauty over time to win the heart of the man they love. Or better yet, write a guy character who isn't superficially handsome. If what's the inside is so much more important than what is on the outside then why aren't there ever any nerdy, balding, overweight male love interests in your books? (wrote the nerdy, balding, overweight male)
Okay I think that's all the soapboxing you can handle.
In the summation Scoop is fun book with great writing and believable characters. The plot tapers off a little toward the end, but on the plus side this book has a sequel so hopefully the intrepid Cauley McKinnon will get a more satisfactory resolution in that one.
I already mentioned the 99 cent price point and Scoop is more than worth that. If you like romantic mysteries or mysterious romances this book has got you covered. You can get it for your eReader type devices here.